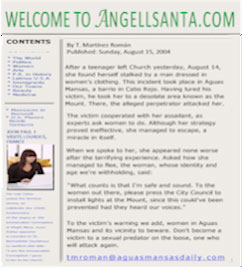 »ARTICLES AT YOUR FINGERTIPS
Do you like to write?
If so, we need you!
Type of Articles we Need at Angellsanta.com
Marketing
Doing Consulting (Professionalism, Ethics, Boundaries, Salaries, etc.)
Consulting Tips
How to Get a "Yes" From Prospective Clients
Management Styles
And anything you can think of as long as it's related to our industry.
Submission Guidelines
Articles can be in English or Spanish. We only accept submittals in PDF format.


Submission Length: 2,500 words, double spaced, Verdana, 12 points. We reserve the right to edit for clarity.


Your article must be original. If you must quote from anyother source, get permission. Sent us copy of said permission along with your submittal.


You can add  images to your article. Maximum size: No more than 515px wide. Make sure you're images are copyright free. If they are not, get permission from respective owners. Submit copy of such permission with your submittal.
PLEASE NOTE:
Hold steadfast to the rules regarding copyright infringement. Neither SDI SOFTWARE CONSULTANTS, INC., nor ANGELLSANTA.COM are to be held responsible for copyright infringment committed on purpose, or inadvertently, by anyone who submits articles to us.


If your submission requires pictures, or contain quotes from any source, and you do not submit proof of permission to use, we will NOT read your submittal.
LINKS TO COPYRIGHT LAW
*ARTICLE'S PAGE WILL BE UPDATED NOVEMBER 15 TO REFLECT REVISED SUBMISSION GUIDELINES.
---
Nuestro personal es bilingüe en ambos idiomas, el inglés y español. Déjenos saber en qué podemos ayudarlo. Envíenos una lista de trabajos a realizar al siguiente correo electrónico:
También puede comunicarse con nosotros al siguiente número telefónico: 1-646-417-3349.
**FREE! ** FREE!
CALL US TODAY!
Tel: 1-646-417-3349
CONSULTA TELEFÓNICA
15 MINUTOS

*Primer consulta solamente. ¡No obligación de su parte!


¡LLÁMENOS HOY!
Tel. 1-646-417-3349