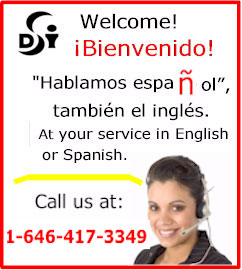 »CONTACT
Welcome!
We're happy to hear from you. How may we help you? Before you proceed, we promise those who call, or e-mail, that we won't:
Share or sell your personal information to anyone. The data we gather will help us know who may be interested in our services. With that in mind, we may, from time-to-time, keep you abreast of any specials we may run, or let you know of our latest articles.
We are in the process of installing a form so that you may contact us with ease. Meanwhile, please feel free to contact us at any of the following:
To Arrange a FREE 15-Minute-Phone Consultation:
Mr. Angel Santa, 1-646-417-3349
To Request Our Services e-mail:
Please give us a brief description of your needs. Ms. Irizarry will assign your request to one of our staff members, who will contact you directly. Please don't forget to list your telephone number.
Thank you!
---
Nuestro personal es bilingüe en ambos idiomas, el inglés y español. Déjenos saber en qué podemos ayudarlo. Envíenos una lista de trabajos a realizar al siguiente correo electrónico:

aidalirizarry@angellsanta.com

También puede comunicarse con nosotros al siguiente número telefónico: 1-646-417-3349.
**FREE! ** FREE!
CALL US TODAY!
Tel: 1-646-417-3349
CONSULTA TELEFÓNICA
15 MINUTOS

*Primer consulta solamente. ¡No obligación de su parte!


¡LLÁMENOS HOY!
Tel. 1-646-417-3349