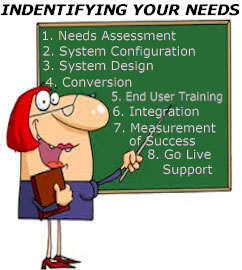 »SERVICES: SOFTWARE IMPLEMENTATION
Be aware. Software Implementation is a complicated project. It's important you choose the right software. As crucial, you must select an expert in this field. SDI Software Consultants, Inc. is that partner. Together we can achieve a trouble-free implementation.
IDENTIFYING YOUR NEEDS
Your software needs and its performance are important. How will you use your system in context of your broader business processes? We'll study your answers to this question in-depth. Afterwards, we'll draw up a plan specific to your non-profit. This includes:
Neeeds Assessment
System Configuration
System Design
Conversion
End User Training
Integration
Measurement of Success
Go Live Support
SDI Software Consultants, Inc. will then meet with key members of your organization. We will exchange ideas, and, if necessary, we will revise the plan.
We will begin your implementation after you've signed off on the final project..
PROJECT MANAGEMENT
SDI SOFTWARE CONSULTANTS, INC. will prepare a plan specific to your needs.
WHAT OUR PLAN INCLUDES:

Project Summary based on the project details submitted to SDI.
Principal Responsibilities: We will list the system you will use, and break down the steps planned to implement your concept. These include, but is not limited to, design, code, software installation, testing customizations, configuring your software, etc.
Target Date for Project Completion: We will provide an estimate. Each project is different.Complications aside, we will do our best to meet this deadline.
Measurement of Success shows how well we've implemented your vision. To achieve this objective, we follow strict criteria. This entails testing your nonprofit's system to make sure it functions seamlessly.
We also recommend training your staff. A well-trained staff will deliver the results you expect of your system.
Professional Fees
Estimated, based on time it takes to complete the project. Should the project take longer to complete SDI CONSULTANTS, INC. will negotiate the extra
---
Nuestro personal es bilingüe en ambos idiomas, el inglés y español. Déjenos saber en qué podemos ayudarlo. Envíenos una lista de trabajos a realizar al siguiente correo electrónico:
También puede comunicarse con nosotros al siguiente número telefónico: 1-646-417-3349.
**FREE! ** FREE!
CALL US TODAY!
Tel: 1-646-417-3349
CONSULTA TELEFÓNICA
15 MINUTOS

*Primer consulta solamente. ¡No obligación de su parte!


¡LLÁMENOS HOY!
Tel. 1-646-417-3349