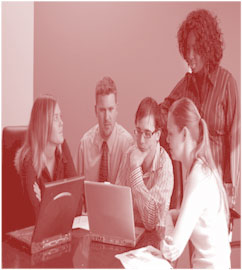 »SERVICES: TRAINING
ON-SITE TRAINING
This option is best for personnel involved in management or supervision. Although done on-site, training is intensive. Thus, it requires a quiet atmosphere, unhampered by interruptions, to enable the student to focus on the software they wish to master.
The trainer is always at hand. Our trainers are leaders, and make sure students master their software in a short time as possible.
ALL our courses include followup-testing to make sure you have mastered the material.
FEATURES
Small classes: one person or eight
Training Specialists in their respective fields.'
CLASSROOM TRAINING
FEATURES

ON-LINE TRAINING
At SDI SOFTWARE CONSULTANTS, INC. also we use the media to help you master the subject.. However, our presentations are "live." Your trainer is present to clarify, expand on a particular point right at that moment.
We prefer the personal touch. On-Line Training is the perfect choice for those who want to maximize their time.
FEATURES
Work one-on-one with trainers experts in their respective fields
Added bonus: No going out in the weather
---
Nuestro personal es bilingüe en ambos idiomas, el inglés y español. Déjenos saber en qué podemos ayudarlo. Envíenos una lista de trabajos a realizar al siguiente correo electrónico:
También puede comunicarse con nosotros al siguiente número telefónico: 1-646-417-3349.
**FREE! ** FREE!
CALL US TODAY!
Tel: 1-646-417-3349
CONSULTA TELEFÓNICA
15 MINUTOS

*Primer consulta solamente. ¡No obligación de su parte!


¡LLÁMENOS HOY!
Tel. 1-646-417-3349